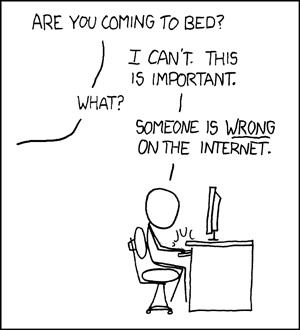 Someone is wrong on the internet. (courtesy of xkcd)
Sometimes in WoW, we play for fun. During such times I am happy to spend gold; buckets of it.
Sometimes we are making gold. For the sake of this post this is not 'fun' : I am playing to 'win'. I want to make gold; lots of it; as efficiently as possible.
Most regular readers already have a clue about risk vs reward : Knowing that as you go down the chain you potentially gain more gold but also get more risk of losing it all:
Dailies
Farming
Crafting
Flipping
Most regular readers also know about supply and demand curves. As price goes down suppliers stop bothering and partially interested customers come knocking. As price goes up, the opposite happens. We also know that in WoW, there are instances where supply (from levelling professions) strips any possible (player driven) demand: Glyph of Voidwalker - I'm looking at you, but there are others.
We might talk about what price to pay for ore for the obsidium/elementium shuffle; the cost of making a glyph; whether it is worth making darkmoon trinkets; and whether or not you should resell vendor pets. These are all important conversations and would be gold makers should understand these concepts. But it is not the most important question.
We have time to make gold with. All the theory on whether to participate in a particular market takes secondary priority to the fundamental gold making question:
Given the amount of time I have to make gold; what is the best way for me to do so?
For those that run out of time before running out of profitable things to do; We need to keep in mind gold per hour. For those that run out of profitable things to do before running out of time (who are you anyway?); you need new profitable opportunities.
I attempt to use a gold per hour standard.